Commercial Tenant Credit Check ?>
Commercial Tenant Credit Check
Watch our latest video…
Get an Owner's Credit Report
We offer the perfect commercial tenant screening service for landlords renting out office suites, warehouse space, and retail store fronts to small business owners. Both landlords and commercial real estate brokers may use our services to screen the personal credit report of officers, directors, and owners of private corporations and sole proprietorship businesses. Personal credit can be used to reveal the financial strength and discipline of a small business even if the landlord is not seeking a personal guarantee.
No Paperwork or Signature
No kidding. All you will need is the person's name and email address to order their official credit report accompanied by public records and a criminal background check. The applicant will be prompted to verify their identity online (takes 5 min. to complete)

Soft Credit Pull (not hard)
What makes this so perfect for any prudent business owner is that there is no affect on their personal credit report. The inquiry will not be revealed to future creditors. It's a called a soft pull (or soft inquiry) as opposed to a hard inquiry that stays on file for two years and lowers a person's credit score.
How Does it Work?
Register for a Tenant Background Check (Option 1).
Add the Commercial Rental Property Address
Add the Person's Name & Email to Order a Tenant Screening
The Person Verifies Identity <5 Min
You Immediately Receive Report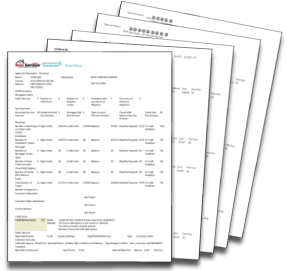 How Much Does it Cost?
Each commercial tenant screening order is charged based on each adult and is very affordable (see below) with each account being free to register and free to maintain – no monthly fee – pay only as you screen.
Visit our Tenant Background Check (Option 1) to view our current pricing along with an option to complete your registration in less than 5 minutes.