Account Options ?>
Account Options
Tenant Background Check Accounts
All landlords will qualify for either type of account which can be set up in just 2 minutes without any registration free. Keep a credit card securely on file and it will only be charged whenever you decide to order a tenant background check – there are no recurring fees.
There are now two account options:
1. RealSerious.com by AmerUSA
Get the same level of data that the pros receive – full complete detail that satisfies the credit and criminal requirements of most Homeowners (and Condominium Owners) Associations nationwide. RealSerious.com offers the greater report detail as a soft inquiry system that is ordered using only the tenant's name and email address (the tenant will provide the rest).

Only $34.95 per tenant screening:
Sign Up/Receive Results 24/7
No Inspection or Paperwork
Official Credit Report
Credit Bureau Credit Score
HOA and COA Compliant
Reported Employment
Chapter 7 & 13 Bankruptcy Filings
Monetary Judgments (Eviction)
Returned Check Collection Accounts
Unpaid Utility & Landlord Collections
Credit Card, Loan & Mortgage Payments.
Security Deposit Recommendation
National Criminal Record Search
Criminal Data from ATF, DEA, FBI…
…U.S. Secret Service, Customs & Marshals
National Sex Offender Registry
OFAC Terrorist Watch List
Fewer False Positives w/ Credit Matching
Create your own lease agreement option
---
2. AmerUSA standard report
AmerUSA provides a faster, but a little less detailed report and requires the landlord or agent to collect the tenant's name, address, SSN, and DOB to screen a tenant.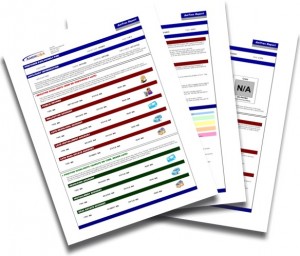 Only $26.95 per tenant screening:
FICO Credit Scoring
Future Risk Assessment
Bankruptcy Filings
Federal/State Tax Liens
Eviction Judgments
Unpaid Check Collections
Landlord/Apartment Collections
Utility Collections
Overdraft Accounts
Credit Cards and Chargeoffs
Auto Loans and Repossessions
Student Loans and Deferments
Mortgages and Foreclosures
SSN Matching
Address Matching
+ You always receive FREE telephone support to help understand your results when trying to make a final leasing decision. If you're looking for the most comprehensive report available, then visit our other platform at RealSerious.com to get what the pros receive.